The Destruction of Nature in San Diego County
The clearance of habitat at the Lawrence Welk trailer park. This landscape was cleared of all vegetation, except for a few, limbed-up mission manzanita shrubs which eventually died. This opened up the area to erosion and the spread of flammable, invasive weeds.
A Classic Story of Government Incompetence and Abuse of the Public Trust
In 2003, instead of dealing with the wildfire problem by addressing all the variables involved and adequately funding a county-wide fire department, the San Diego County Board of Supervisors and the County's Department of Planning and Land Use (DPLU) took the path to misrepresent scientific research and blame Nature by proposing to burn, grind, or spray with herbicides extensive amounts of the region's native shrublands.
Below is the historical record of our efforts to correct San Diego County's attempts to purposely misrepresent the truth to justify its policy objectives.
The entire story has been
serialized by the Independent Voter Network
.
A pattern of denying science has been a pervasive problem in San Diego County government. For example, here are some of the letters scientists have written to the county protesting the misrepresentation of their work:
Scientist Letters
to San Diego County.
In a 2010 comment letter to the California Board of Forestry, the San Diego County Fire Authority ignored overwhelming scientific evidence and claimed that chaparral is not threatened by type-conversion, a well-known fact. The county also urged the state not to consider climate change in developing long range fire management plans. Why? Because by doing so, San Diego County believed such acknowledgement would interfere with its ability to obtain funding to clear native habitat.
The county's letter to the Board of Forestry denying scientific fact
.
Our letter
in response.
Round 1
April 13, 2003 - SD County Making up Their Own Science
On April 13, 2003, San Diego County staff produced a report titled "Mitigation Strategies for Reducing Wildland Fire Risks." It was the beginning of the effort by the Board of Supervisors to promote landscape-scale prescribed burns throughout the backcountry.
The authors of the report misrepresented the work of quoted scientists, created fictious references, and ignored contrary data in order to promote their particular viewpoint. Below are the letters from the misrepresented scientists. In response to the scientists' requests that San Diego County reevaluate its position and examine the data more objectively, county staff was instructed to no longer associate with or grant consulting contracts to those who were involved in writing the letters. After a protracted effort, the report was finally removed from the county's website.
Cover letter from the San Diego Fire Recovery Network
describing the main problems with the report
.
The questioned
2003 Wildland Fire Risks report
.
Critiques of report
"This report contains an undeniable bias against work that suggests vigorous and expensive fuel manipulations in the backcountry of San Diego are not an effective means of reducing the current fire hazard situation at the urban / wildland interface."
- Dr. Jon E. Keeley, USGS
"We were disturbed by the way our research findings were completely mischaracterized in this report on page 8. Not only are the specific statements about our findings completely false, but also, more generally, our research does not support the claims and recommendations of this section of the report." -
Frederic Schoenberg and Roger Peng, UCLA
"The report is poorly researched and on the face appears heavily biased toward influencing the San Diego Board of Supervisors and Planning Department toward a decision of managing large fires in San Diego County by control burning of remote wildland areas." -
CJ Fotheringham, UCLA
Round 2
May 14, 2008 - The Vegetation "Management" Report
On May 14, 2008, San Diego County Supervisor Bill Horn instructed county staff to come up with a vegetation management plan to facilitate the removal of native vegetation in the region's protected wildland areas through burning, mastication, and grazing. Please see below our original comment letter to the Board for a detailed analysis explaining why such an approach is not only destructive, but will actually increase fire risk.
The following video is an edited version of the testimony given at the January 5, 2009 Planning Commission hearing. It provides an excellent way to understand why so many of us are frustrated with San Diego County's approach to fire risk reduction.
May 14, 2008 resolution by the San Diego County Board of Supervisors
(plus our summary) directing staff to develop a vegetation management program.
Our June 25, 2008 comment letter
to the San Diego County Board of Supervisors on their plan to burn, graze, or masticate wildland vegetation in the back country.
Key Quote:
"Our opposition is based on science, first-hand firefighter experience, and public law. There is no question in our minds that if the County engages in the kind of burning program the Board described on May 14, San Diego County would be less fire-safe, would irreversibly damage its natural resources, and would seriously compromise the ecological health of the region. In addition, US Forest Service scientists have concluded that "landscape mosaics are impractical, unnecessary, and probably not particularly effective" in creating a strategic approach to fuel and fire management in chaparral (Conrad and Weise 1998).
"
Draft #1
San Diego County Vegetation Management Report
with our comments inserted
Draft #2
San Diego County Vegetation Management Report
Our 8/19/08 comment letter on Draft #2
Key Quote: "Unfortunately, as the Draft now stands, the objective of improving fire safety in the County is lost due to the inclusion of scientifically unsupportable speculations about ecosystem health, historical fire regimes, and the efficacy of prescribed burning."
Draft #3
San Diego County Vegetation Management Report
Our 8/31/08 suggested edits
for Draft #3 (they were ignored).
Draft #4
San Diego County Vegetation Management Report with our comments inserted
Our 1/5/09 comment letter
to the SD County Planning Commission on Draft #4.
Key quote:
"Despite assurances to the contrary, the current draft document continues to imply that large scale vegetation treatments should be used on a county-wide basis. This approach was NOT the consensus reached during the two county workshops."
Additional comment letters on Draft #4:
Conservation Biology Institute
Endangered Habitats League
This video is an edited version of the testimony given at the January 5, 2009 Planning Commission hearing. It provides an good way to understand why so many of us were frustrated with San Diego County's approach to fire risk reduction.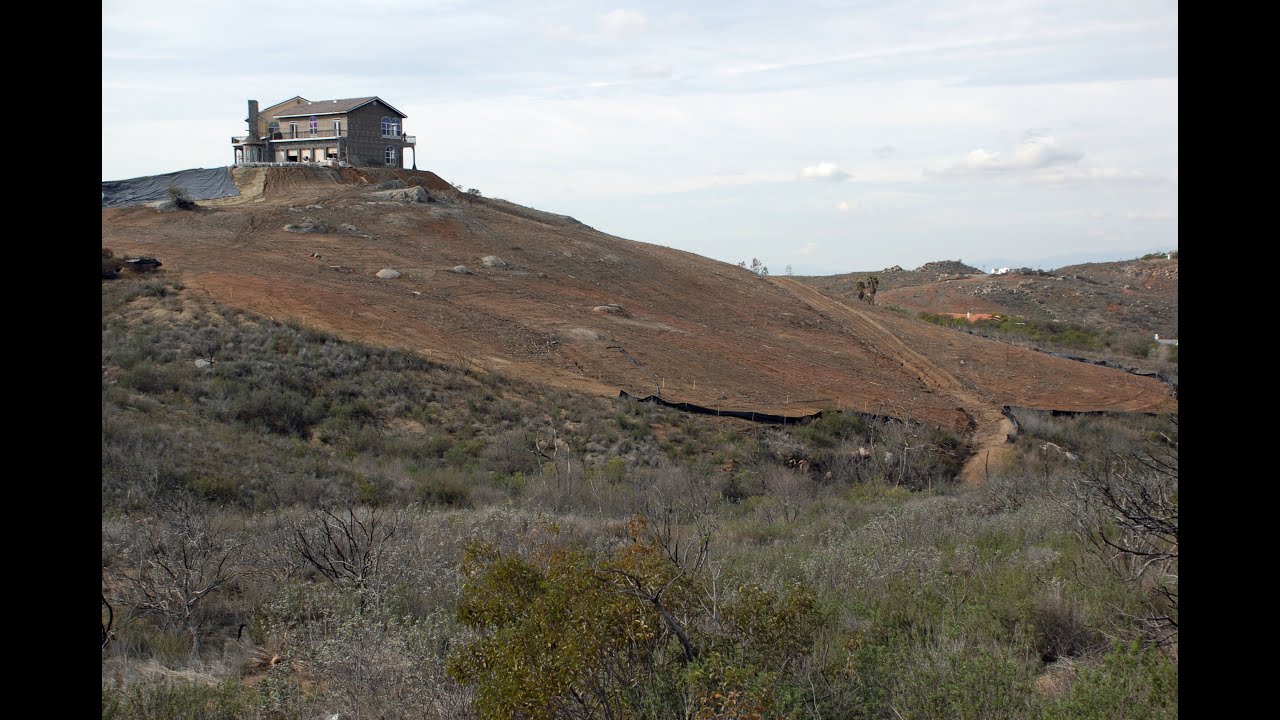 The FINAL Report
3/25/09
While this document is obviously not perfect because it remains focused on native vegetation and does not properly address the entire fire risk reduction equation, it is a significant improvement from previous drafts. It acknowledges the role of urban fuels and embers in property loss and the negative impacts of vegetation treatments. Unfortunately, there are still statements about the desire to exempt controlled burns from the California Environmental Quality Act and failures to understand basic ecological principles (e.g. the proposal to get rid of those pesky, "invading chaparral shrubs" in the Cuyamacas remains).
The 2009 San Diego County Board of Supervisors
Starting top left: Greg Cox, Bill Horn, Dianne Jacob, Ron Roberts, Pam Slater-Price.
Round 3
April 22, 2009 - San Diego County Breaks its Promise
With the release of the county's final draft of their vegetation management report (see Round 2 above), San Diego County staff members and several county supervisors publicly stated (repeatedly) that county vegetation management projects would be properly reviewed under the California Environmental Quality Act (CEQA).
But on April 22, 2009, the Board of Supervisors attempted to approve a CEQA exemption on a $7 million vegetation management project that involved expanding clearance distances around homes and evacuation routes up to 500 feet! That's nearly two football field lengths.
However, due in part to an excellent letter written and delivered to the Board of Supervisors by Dr. Anne Fege, this proposal was pulled from the agenda during the April 22 meeting. You can download a copy of
Dr. Fege's letter here
. We guess they didn't think we were watching.
Here is the
April 22 county document
.
The county was back at it on May 13, 2009, but this time with a modified proposal that limited the project to creating 100 feet of defensible space around homes (a good thing) and clearing what the county deems as unhealthy trees from within 500 feet of structures and roads. The CEQA exemption was still there. The board passed the proposal unanimously.
Here is the
May 13 county document
.
Yes, we thought we had prevented the county from exempting their clearing projects from CEQA, especially after the board itself passed a motion that they would subject each project to CEQA review.
For full details as to why drastic "clearance" distances cause significant environmental harm and can actually increase fire risk, please see
our testimony to the California State Senate
on the matter.
Round 4
June 10, 2009 - Lawsuit Filed to Compel San Diego County to Follow the Law
We filed a lawsuit on June 10, 2009
(see our
Press Release
) to compel County of San Diego to follow state law and conduct a full public review of their $7 million habitat clearing project. The lawsuit is also supported by both the California Native Plant Society and the San Diego Sierra Club.
Here is our
May 12, 2009 letter
to the Board of Supervisors objecting to their claim that their Clearing Project was exempt from public review and the California Environmental Quality Act (CEQA).
Why we are filing a lawsuit:
The Institute strongly supports the use of $7 million to create 100 feet of defensible space around homes. However, removing trees deemed unhealthy and damaging habitat nearly two football field lengths away from structures and roads is a waste of taxpayer money. In addition:
1. The project deflects attention away
from what needs to be done - assisting residents to retrofit their homes and reducing hazardous fuels directly next to communities. This issue was highlighted in a
new study released June 6, 2009 (Schoennagel et al. 2009)
that federal programs intended to reduce wildfire risks in the West have been largely ineffective because fuel-reduction efforts seldom hit areas near homes and businesses.
2. San Diego County is violating state law
by denying citizens the right to provide input on a tax-payer supported project that will directly impact their lives.
3. The project may lead to the spread of weedy, flashy fuels
across the landscape, increasing the risk of fires and unnecessarily damaging natural resources.
4. The project may not use the best available knowledge
to make the right decisions about how to strategically save lives and homes during the next wildfire.
5. The project may lead to the spread of the gold-spotted oak beetle
that is killing thousands of oak trees in the region.
The only way to help ensure that the project's potentially negative consequences are avoided is to require the county to conduct a full environmental review as required by CEQA.
Round 5
December 2, 2009 - San Diego County Fails to Produce Documents
Unfortunately, San Diego County is continuing to waste tax payer money and violating the law... again.
In brief, on June 10, 2009 we filed a lawsuit to force the county to allow citizens and outside experts to provide input into the expenditure of $7 million in public funds to clear vegetation in the name of fire protection beyond what is supported by scientific evidence.
On October 23, 2009, we filed a request to obtain documents (under California Government Code 6256) relating to this project.
The county is required by state law to release and deliver these documents within ten days of the request.
San Diego County still has not complied with our request.
Most notable in the county's refusal is their failure to produce documents relating to a monitoring plan for their vegetation clearing project. Monitoring is required by the Vegetation Management Report that was accepted by the Board of Supervisors on March 25, 2009. Did the county insert this requirement because they intended to follow through with monitoring or only to appease concerned citizens (who they hoped wouldn't be watching)?
We may need to go to court again to force the county to follow through on their legal obligations.
Timeline for our original lawsuit:
12/09 County's response to our lawsuit brief (25 pages)
01/08 Our reply brief (15 pages)
01/15 10:00 Court Hearing
Thanks to all those citizens and groups (especially the California Native Plant Society and the San Diego Sierra Club) for supporting our efforts to bring honesty to San Diego County government, protect its citizens from wildfire, and preserve the region's natural resources.
December 8, 2009 -
County finally produces requested documents.
Round 6
March 4, 2010 - Court rules that county violated state laws by exempting tree removal project from public/environmental review
Negative impacts to taxpayers, fire safety, and nature must now be considered.
SAN DIEGO, Calif. – The Superior Court issued its final ruling today in favor of the California Chaparral Institute requiring the County of San Diego to follow state environmental laws and conduct a full environmental review of its backcountry vegetation clearance and dead tree removal project. The court rejected the county's position that its three to four year, $7 million vegetation management project was a short-term project addressing an immediate, emergency occurrence. Hence, the project is not exempt from the California Environmental Quality Act (CEQA).
"Removing dead trees nearly two football field lengths distant from roads and structures in the backcountry will not significantly reduce fire risk to people as the county claims," said Richard Halsey, director of the Institute. "In fact, besides potentially damaging habitat, such action may actually increase fire risk by introducing flammable weeds, giving people a false sense of security, and wasting taxpayer money that could have been used to create defensible space directly around homes and communities."
Requiring the county to conduct a public review of this project will allow objective scientific evaluation and citizen participation to help ensure public funds are used in a way that will protect lives, property, and natural resources in the most effective manner.
For a thorough discussion of what the lawsuit addresses and how we have responded to sometimes less than informed criticism, please download and read this
newspaper article and the reader comments
.
Here are the relevant documents you can download relating to our lawsuit:
Our opening brief
The county's response
Our response to the county
Final Ruling
Round 7
July 1, 2010 - SD County claims that there will be no significant environmental impacts caused by their dead tree removal project
Round 8
November 8, 2010 - SD County Reverses - issues notice of intent to produce a full Environmental Impact Report on dead tree removal
After receiving a significant number of criticisms from a wide range of scientists on their negative declaration document, the county realized they needed to do what the judge told them to do in the first place - a complete environmental impact study. The document the county issued requesting comments on the scope of their EIR contained many of the same misconceptions and erroneous conclusions the county has been issuing for years to justify their misguided approach to land management.
An article in the California Native Plant Society Bulletin
concerning SD County's approach to land management:
"San Diego's Fuel Treatment Strategy is Harming Ecosystem - Policymakers attempting to circumvent environmental regulations" January - March 2011."
Round 9
February 29, 2012: SD County Board of Supervisors Approve EIR
The final EIR (Environmental Impact Statement) that was approved by the San Diego Board of Supervisors on February 29th (which we forced the county to conduct through our successful lawsuit) basically stated the same thing the county's previous documents did and depended on the same questionable research and hearsay to justify its actions. This was expected. We considered challenging the document in court, but it would have been a difficult case. Unless there are some egregious errors in procedure or clear violations of the law, courts generally defer to the issuing agencies on such matters.
The downside: Instead of trying to work with us and using the best available science, the county decided to try and skirt the law (which failed), used questionable data to obtain $7 million in federal monies, and wasted thousands of dollars in legal fees ($75,000 reimbursement to our attorneys alone). Worse, the county continues to waste taxpayer dollars on projects that have minimal impacts on improving fire safety.
What will forever stick in our minds is a statement made by Supervisor Roberts after we testified that one of the best ways to protect lives and property was to help homeowners retrofit vents and other unsafe features of their homes. Nearly all the homes in the 2007 Witch Creek Fire ignited because of such structural problems. Roberts told us that we were nuts if we thought the county was going to hand out fire-safe vents to private homeowners. So instead, they spend $7 million dollars (of federal money) on a project to cut down dead trees in the backcountry that will have minimal impact on reducing fire risk.
We were hopeful with the retirement of one of the county's lead environmental staff members this past year that the county would begin to reexamine its approach to science and develop an effective plan to help create fire-safe communities without destroying the natural environment. Sadly, this does not appear to be the case.
The upside: After battling San Diego County for nearly 9 years, we have been able to minimize their habit of substituting opinions for science. The most flagrant examples have been eliminated from official county documents, presumably because the county knows if they persist in using questionable data they can be (and will be) challenged. For example, instead of engaging in hyperbole about mega fires, they now qualify their statements and stick with the facts. No longer does the county falsely claim that fire suppression has caused unnatural concentrations of chaparral (at least in their current official documents) to justify massive habitat clearing operations. The 2003 Cedar Fire as described in the EIR is now the "largest wildland fire accurately recorded in California" in deference to new research about the larger
1889 Santiago Canyon Fire
. And possibly most important, the county knows they are being watched and can no longer do whatever it pleases when it comes to impacting the natural environment.
The Final Round
The Chaparral Wins
During post-trial settlement negotiations with the Chaparral Institute in 2010, Deputy County Chief Waller indicated that the county was in the beginning stages of initiating a full EIR on the entire countywide vegetation management plan as outlined in the Vegetation Management Report approved in 2009. The effort would be monumental: burning, masticating, and spraying more than 300 square miles of backcountry habitat over a five-year period.
The county issued an invitation for consultants to submit their qualifications by September 1, 2010 to prepare the EIR. Reportedly, two consulting firms were short-listed. Thomas Oberbauer, one of the plan's major proponents, retired in December, 2010. At some point afterwards, the procurement process for the EIR was terminated.
Thus, the countywide habitat clearance plan died a quiet death in early 2011. The official reason for the plan's cancellation was "budget constraints."
For the complete story of our fight to protect the chaparral from San Diego County's Department of Planning and Land Use, please see
Issue #40 of The Chaparralian
.
The story has also be serialized on the
Voter Independent Network website
.