Chaparral Fires: Naturally Large, Intense, Infrequent
Large wildfires are a natural and inevitable part of the California landscape
Large wildfires are typically driven by drought and strong winds. The conditions become so extreme that it doesn't matter what's burning, be it trees, shrubs, grass, or homes - the fire will continue to spread until the weather changes (or in the case of coastal fires, until it hits the Pacific Ocean). Unfortunately, this is not what you usually hear whenever a large wildfire occurs in California. The typical narrative goes something like this - that wildlands are unnaturally "overgrown" with a half-century's worth of highly combustible "fuel" because of past firefighting efforts (fire suppression). The narrative often continues with comparisons to Baja California where it's claimed that there aren't large wildfires at all because they have a
let fire burn
policy
,
supposedly creating a patch work of mixed-aged vegetation. So, when a fire does occur in Baja, it supposedly remains small because it hits previously burned/younger vegetation and goes out. This narrative is compulsively repeated in nearly every article you read or news report you hear about wildfires. It's repeated without question.
Unfortunately, it's not true
and has led to environmentally destructive land management policies and taken attention away from
actions that could better protect communities
from wildfires. This "past fire suppression" narrative can be described as the Baja Fire Mosaic hypothesis, which
has been rejected by the scientific community
for more than a decade. Yet the story persists because it provides what sounds like a simple solution to a very complex problem. The hypothesis was first formally described in 1983 by Richard Minnich. A map in the original paper showing small fire perimeters south of the boarder, and
large ones to the north, is often used as supporting evidence. At first, the map is convincing and the logic appears reasonable. However, after being tested by a diversified group of scientists over the past 20 years, the fire mosaic hypothesis fails for three simple reasons:
1. There are large fires in Baja. 2. Under extreme weather conditions, fires will burn through, go over (via embers) or around previously burned areas. 3. Within 3-5 years, previously burned areas are filled with new growth and often flammable, non-native grasses, fully capable of carrying a fire.
In addition, Baja and southern California have
radically different climatic patterns, soil conditions, and vegetation structure
. They are not comparable environments.
One of the more indefensible claims of the fire mosaic hypothesis is that large fires never existed in southern California prior to the influence of fire suppression activities (usually identified as starting after 1910) because "mixed-aged mosaics" would naturally prevent the spread of fire. The historical record is clear in refuting this claim.
Large fires have been a part of the southern California landscape for thousands of years.
A complete analysis of why the Baja Fire Mosaic Hypothesis has been rejected by the scientific community can be download here:
The Problems With Claiming Baja California Doesn't Experience Huge Wildfires Like California
1. There are big wildfires in Baja California.
Northern Baja California has a significant number of large wildfires. The most recent ocurred in October of 2019. Usually fanned by fierce Santa Ana winds similar to those in California, Baja wildfires can often move faster (and consequently become more deadly) due to the large amount of fine, weedy fuels (grasses).
Fanned by winds, Baja California wildfires leave 4 people dead, destroy 200 houses. State of emergency declared in Tecate, Playas de Rosarito and Ensenada
Saturday, October 26, 2019
Raging wildfires in Baja California have left four people dead, destroyed some
200 houses and burned
over 7,000 hectares of meadow land.
The state government declared a state of emergency in Tecate, Playas de Rosarito and Ensenada and put Tijuana on pre-alert as a result of the deadly fires.
The Defense Secretariat (Sedena) has implemented the DNIII-E natural disaster emergency response plan and evacuated 1,645 people.
The fires began on Thursday and grew out of control as a result of the
Santa Ana winds
, which have been
reaching speeds as high as 95 kilometers per hour
. They have completely burned at least 70 houses in Tecate, 50 in Tijuana and over 30 in Rosarito.
"The most serious fire is the one in Tecate, in which preliminary reports state that 70 houses have been destroyed," said state Civil Protection director Antonio Rosquillas on Friday. "Unfortunately, two people there have died, two were wounded, and around 60 families affected."
About 50 fires have been reported in four municipalities.
In Playas de Rosarito, where around 30 houses were completely burned, firefighters found a man and his dog burned to death in the bathroom of a house that was consumed by the flames.
Classes at public schools and universities in the affected cities were canceled on Friday, and police closed highways in the area that were covered in a thick layer of smoke.
Tijuana Mayor Arturo González Cruz believes the fires to have been started by a trash fire at an illegal dump site that grew out of control with the winds.
The federal Secretariat of Security and Citizens Protection (SSPC) reported Friday night that the National Forestry Commission (Conafor) had contained only 35% of the estimated 50 fires. It is not known how much of the region's natural protected areas have been burned.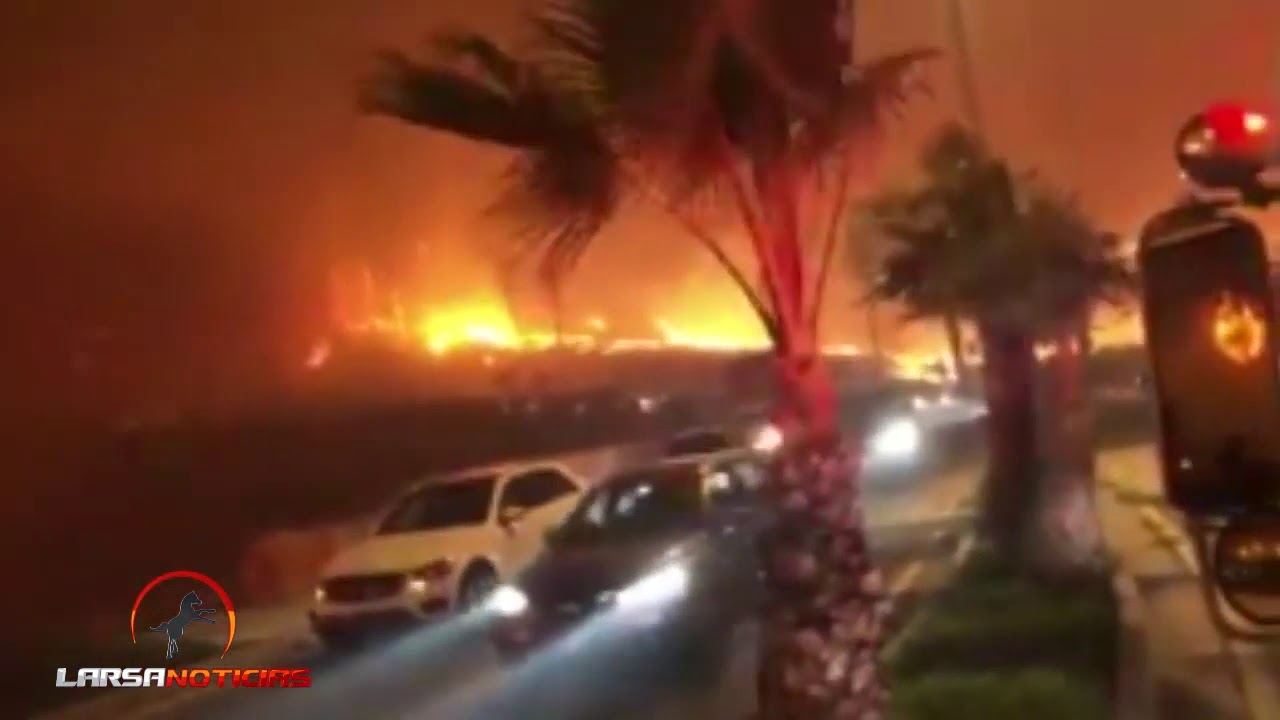 2. The age and density of chaparral has little to do with the occurrence of large wildfires.
The USGS map below shows how the 2007 fires in San Diego County overlapped the 2003 fire areas (bright purple), re-burning nearly 70,000 acres of fragile habitat. According to the Baja Fire Mosaic Hypothesis, this was not supposed to happen. It did. When power Santa Ana winds blow, any aged vegetation will ignite and carry the fire. The ecological health of these re-burned landscapes has now been seriously compromised and is leading to a more flammable landscape - one with weeds and grasses. In a similar example, the
2013 Silver Fire reburned
much of the deadly 2006 Esperanza Fire area, destroying 26 homes in the process. Defying the fundamental assumption that older "overgrown" vegetation is the cause of large wildfires, the Silver Fire burned through invasive weeds and young, desert chaparral growing since the Esperanza Fire.
Proponents of backcountry vegetation treatments and the Baja Fire Mosaic Hypothesis have maintained that the cause of large wildfires is unnatural "fuel" build up due to past fire suppression efforts. It is claimed that younger fuels will not carry a fire. The loss of homes and the burning of young vegetation by the Silver Fire
contradict this notion
.
Four-year-old habitat recovering from the 2003 Cedar Fire. Reprouting manzanitas in the foreground.
The same location re-burned during the the 2007 firestorm. Boulder Creek, San Diego County, California. Photo by Wayne Spencer.
3. Huge, wind-driven wildfires have always occured in California.
Scientific research and historical documents have shown that
large wildfires are natural events
in California have generally occured 1-3 times per century. For example, the 1889 Santiago Canyon Fire burned over 300,000 acres of San Diego, Orange, and Riverside Counties.
4. Fire suppression has not not been effective in excluding fire from southern California chaparral AND has not resulted in unnatural amounts of vegetation.
Scientific research has shown that fire suppression in southern California has not been successful in excluding fire in native chaparral or sage scrub ecosystems. In fact, fire suppression has been important in protecting chaparral from
too much fire
.
The Research Refuting the Baja Fire Mosaic Hypothesis
"Early studies characterizing differences in fire size north and south of the United States border invoked fire suppression as the primary explanation for these patterns (Minnich 1983, Minnich and Chou 1997). However, recent analyses show no evidence that 20th-century fire suppression has diminished fire activity on these landscapes...
The fire regime in this region is dominated by human-caused ignitions, and fire suppression has played a critical role in preventing the ever increasing anthropogenic ignitions from driving the system wildly outside the historical fire return interval. Because the net result has been relatively little change in overall fire regimes, there has not been fuel accumulation in excess of the historical range of variability, and as a result, fuel accumulation or changes in fuel continuity do not explain wildfire patterns."
From:
Keeley, J.E, G.H. Aplet, N.L. Christensen, S.C. Conard, E.A. Johnson, P.N. Omi, D.L. Peterson, T.W. Swetnam. 2009. Ecological foundations for fire management in North American forest and shrubland ecosystems. Gen. Tech. Report PNW-GTR-779. Portland, OR: USDA, USFS PNW Research Station. 92 p.
Another paper concluded,
"Despite overwhelming evidence that fire frequency is continuing to increase in coastal southern California (Keeley et al. 1999, Moritz et al. 2004, NPS 2004), the current fire-management program subscribes to the paradigm that fire suppression has led to fewer, larger fires, and that landscape-scale prescribed fire should be used to create a fine-scaled age mosaic. Considering the results of our simulations, we believe that adding more fire to the landscape through broad-scale prescribed burning may have negative ecological effects. Instead, our results are consistent with recent recommendations from the U.S. National Park Service to change the fire management program to focus fuel-reduction efforts and prescribed fire on strategic locations such as the wildland–urban interface (NPS 2004)."
From:
Syphard A.D., Franklin J., Keeley J.E. 2006. Simulating the effects of frequent fire on southern California coastal shrublands. Ecological Applications 16: 1744-1756.
Original Paper
Minnich, R. 1983. Fire Mosaics in Southern California and Baja California (the original paper).
The First Papers Seriously Questioning the Fire Mosaic Hypothesis
Keeley, J.E., Fotheringham, C.J., Morais, M. 1999. Reexamining fire suppression impacts on brushland fire regimes. Science Vol. 284. Pg. 1829-1832.
Mensing, S.A., Michaelsen, J., Byrne, R. 1999. A 560 year record of Santa Ana fires reconstructed from charcoal deposited in the Santa Barbara Basin, California. Quaternary Research. Vol. 51:295-305.
Zedler, P.H., Seiger, L.A. 2000. Age Mosaics and Fire Size in Chaparral: A Simulation Study. In 2nd Interface Between Ecology and Land Development in California. USGS Open-File Report 00-02, pp. 9-18.
Discussion of the Fire Mosaic Hypothesis in Conservation Biology
Keeley, J.E. and C.J. Fotheringham. 2001. Historical Fire Regimes in Southern California Shrublands (analysis of Minnich's hypothesis).
Minnich, R. 2001. An integrated model of 2 fire regimes (response to Keeley/Fotheringham 2001).
Keeley J.E. and C.J. Fotheringham. 2001. History and Management of crown-fire ecosystems: a summary and response (Response to Minnich above).
Papers Examining and Rejecting the Fire Mosaic Hypothesis
Moritz, M.A., J.E. Keeley, E.A. Johnson, and A.A. Schaffner. 2004. Testing a basic assumption of shrubland fire management: Does the hazard of burning increase with the age of fuels? Frontiers in Ecology and the Environment. 2:67-72.
Keeley, J.E. and P.H. Zedler. 2009. Large, high-intensity fire events in southern California shrublands: debunking the fine-grain age patch model. Ecological Applications 19: 69-94.
...Appendix A to above paper.
...USGS Publication Brief on above paper.
Lombardo, K.J., T.W. Swetnam, C.H. Baisan, M.I. Borchert. 2009. Using bigcone Douglas-fir fire scars and tree rings to reconstruct interior chaparral fire history. Fire Ecology 5: 32-53.
Other Important Papers
Moritz, M. A. 2003. Spatiotemporal analysis of controls on shrubland fire regimes: age dependency and fire hazard. Ecology 84:351-361.
Keeley, J.E. 2002. Fire management of California shrubland landscapes. Environmental Management 29: 395-408.
Keeley, J.E. 1982. Distribution of lightning and man-caused wildfires in California, pp. 431-437. In C.E. Conrad and W.C. Oechel (eds), Proceedings of the International Symposium on the Dynamics and Management of Mediterranean Type Ecosystems. USDA Forest Service, General Technical Report PSW-58.
Halsey, R.W., J.E. Keeley, K. Wilson. 2009. Fuel age and fire spread in southern California chaparral ecosystems: natural conditions vs. opportunities for fire suppression. Fire Management Today 69, #2: 22-28.
In terms of creating mosaics to increase biodiversity, researchers from another Mediterranean-type climate, Australia concluded,
"We identified serious shortcomings of PMB (patch mosaic burning): the ecological significance of different burning patterns remains unknown and details of desired fire mosaics remain unspecified. This has led to fire-management plans based on pyrodiversity rhetoric that lacks substance in terms of operational guidelines and capacity for meaningful evaluation. We also suggest that not all fire patterns are ecologically meaningful: this seems particularly true for the highly fire-prone savannas of Australia and South Africa. We argue that biodiversity-needs-pyrodiversity advocacy needs to be replaced with a more critical consideration of the levels of pyrodiversity needed for biodiversity and greater attention to operational guidelines for its implementation."
From
Parr, C.L. and A.N. Andersen. 2006. Patch mosaic burning for biodiversity conservation: a critique of the pyrodiversity paradigm. Conservation Biology 20: 1610-1619.
Lastly, here are two classic papers discussing the importance of examining all variables and not ignoring contrary data
Chamberlin, T.C. 1890. The method of multiple working hypotheses. Science: Feb. 7. Also reprinted in 1965. Science 148: 754 –759.
Feynman, R.P. 1974. Cargo cult science. Engineering and Science, June.